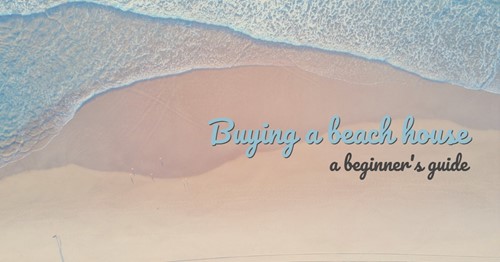 If oceanfront living is a dream of yours, buying a beach house is the first step in making your dream a reality. However, buying a beach house can come with its own unique obstacles and considerations. All homebuying requires careful research and planning, but there are some especially important things to do when buying beach property.
To help you make your coastal living dreams a reality, here is a basic guide to buying a beach house:
Consider your lifestyle
Before you begin your beach home search, determine your lifestyle wants and needs. It's helpful to ask yourself questions like: will this be your primary residence or a vacation home? What features or amenities do you consider essential? Is it essential to be directly on the beach, or would you want to be slightly inland?

For coastal properties, it's also crucial to decide whether you prefer a standalone house or a condominium. Both have their advantages and disadvantages to consider.
Research the neighborhood
When learning about your potential new neighborhood, research any local development plans that could potentially affect your experience. For example, a brand-new condominium community or hotel being built between you and the beach could mean an interrupted ocean view and years' worth of construction noise.
Consider other neighborhood factors like traffic, local businesses, parking and the proximity to your neighbors. Buying a beach house means learning all about the best beach towns in your area.
Invest in inspections & insurance
Beach properties are more exposed to the elements than inland homes. This means it's especially important to scrutinize the quality and condition of every home feature. Hire a home inspector who specializes in the local area and the type of wear and tear beach homes are subjected to.
When it comes to insurance, make sure you have a comprehensive homeowners insurance policy. Include coverage for floods, wind damage and other region-specific hazards. If you have a boat or other watercraft, consider bundling insurance with the same provider for potential discounts.
Hire a real estate agent
Finally, hiring the right real estate agent will make your beach home search smoother and more effective. A local agent can provide valuable insight into the beach town housing market and the specifics of coastal properties. Additionally, they can represent you during the entire homebuying process and help you with all the paperwork.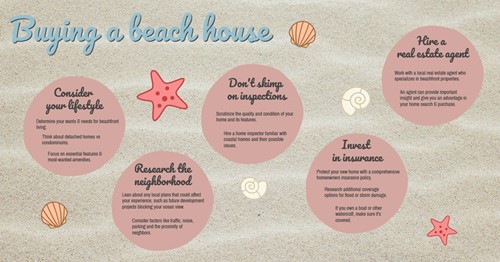 Whether you're moving to the beach or want an investment property, keep these tips in mind to have the best possible experience when buying a beach house.