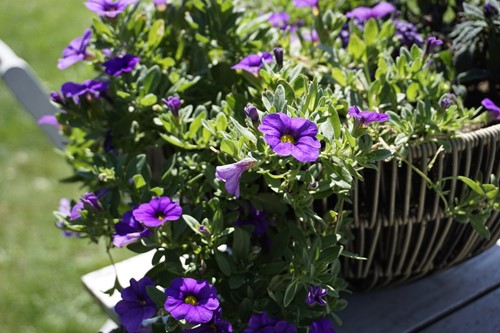 If you have a small porch but still want to decorate with plants, hanging baskets are your answer. They are easy to set up, easy to care for and are a great way to add color without taking up precious square footage. Here we will go over the 5 best plants for hanging baskets on your covered porch.
Petunias
Petunias are the favorite hanging basket plant because they are easy to grow and come in a plethora of colors and sizes. They do best in full or partial sun and have low-maintenance watering needs. Petunias do well in crowded spaces so you can easily plant more than one color in the same hanging basket and get beautiful results. They attract hummingbirds and butterflies and have a subtle but pleasing scent.
Verbena
Verbena is another flower you might have seen in hanging baskets before. It's easy to grow and will spill naturally over the sides of your planter for a lush, cascading look. Like petunias they come in dozens of different colors and can be combined in the same arrangement for whatever look you're going for. You don't have to water your verbena often, either, which makes them especially great for hanging baskets.
Fuchsia
Fuchsia is an excellent choice of hanging plant because of its drooping bell-shaped flowers. This plant does well in hanging baskets as well as trained to trellises and walls. Fuchsia needs shade, however, so only plant if your porch is not in full sun all the time. They also need more regular watering than the above as well as fertilizer to keep the flowers blooming. Hummingbirds and butterflies also love these flowers so if you plant some in a hanging basket you're likely to get some visitors to your porch.
Pansies
Pansies are an all-around popular choice for outdoor gardening in ground beds and planters but also look great in hanging baskets. The "trailing" variety of pansy will look best in hanging baskets as it will spill over the edges. You have a world of colors to choose from and a great opportunity to add color to your porch even if you live in a cold climate. Pansies are extremely winter-friendly and can even survive below-zero temperatures.
Spider Plant
If you're looking for a great hanging plant without flowers, look no further than the trusty spider plant. Spider plants produce long gently curling leaves that hang down and add great visual interest and volume. They also produce "spider babies" or miniature shoots that hang down and grow in star-shaped configurations. Spider plants are commonly included on "hard to kill" plant lists because they can go long periods of time between waterings. However, make sure to hang a spider plant in an area where it won't be burned by direct sunlight.
Before investing in hanging baskets for your porch make sure you consider the needs of each and every plant. Place them accordingly so that they get the correct amount of sun and get a clear idea of how much watering they will need. Remember that watering hanging plants is more of a logistical demand than watering plants on the ground. To make hanging plant care easier, consider a hose extension you can use to water up in hard to reach areas.