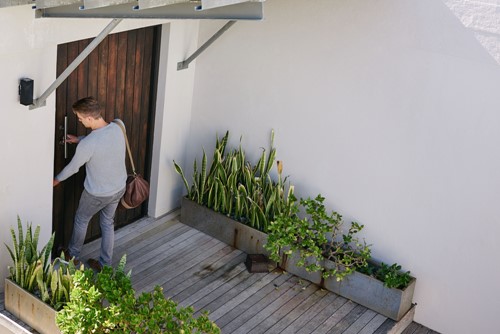 Photo by NakoPhotography via Shutterstock
Whether to protect your belongings when you're not home or to protect your loved ones when they are, you might consider a security system. Burglars are getting smarter, and your home should follow suit. One way to improve your home's security is by installing a smart lock.
Replacement or Add-On
In general, there are two categories of smart locks: (1) those that replace your traditional bolt lock entirely, and (2) those that install over the top of your existing door lock system. When you replace your current lock with a completely new locking mechanism, the device changes the appearance of your door handle on both front and back. When you use a retrofitting lock, it typically keeps the appearance of your traditional door handle. This distinction is crucial if you have a specific aesthetic you need to follow.
What Features to Look for in a Smart Lock
The idea of electronic, wireless entry with remote identification is excellent. However, technological advancement does have its issues. For example, if your Bluetooth or wireless connection is blocked, your lock could end up keeping both you and intruders out of your home. Insist on a system that offers an alternative to wireless entry such as a key fob, keypad, fingerprint reader or self-powered touchscreen.
Here is an abbreviated list of other features to look for in a smart lock system for your home:
Auto-lock and unlock – some systems detect when the person with a key fob or smartphone app, for instance, is near to the door and will instantly unlock for them. This is useful when your arms are full of groceries or luggage. The detection distance (geofencing) is typically set by the user.

Voice activation – Many new locks offer control through a household or smartphone operating system such as Siri, Echo or Alexa. Typically, these require voice recognition or a PIN code to enable the "unlock" command.

Power systems – Many smart locks operate on batteries that alert you when they're low on power and need replacing or recharging. LED indicators also inform you when you need to change the batteries. Depending on the functions your lock performs and the type of battery it has, battery life can be from three months to a year.

Assigned PINs or keys – Many smart locks, including retrofit models, allow the user to assign separate keys or PINs to those approved for entry. Temporary PINs could let in a delivery person or cleaner, while permanent PINs monitor when family, housemates or clients (such as for short-term rentals) enter and leave.

Compatibility with other smart home systems means integration into your home's other routines such as dimming the lights or controlling the temperature. Make sure your smart lock integrates with the system you have.

Finally, determine how weatherproof your system needs to be. Locks rated as having IP water/dust-proof protection from solids and liquids means your lock will operate through most wear and tear and outdoor conditions. Look for the IP ratings for the inside electronic works as well as the exterior parts.
If you've retrofitted your home's lock, let your agent know to promote your home's smart features when you sell it.